NEF Fellow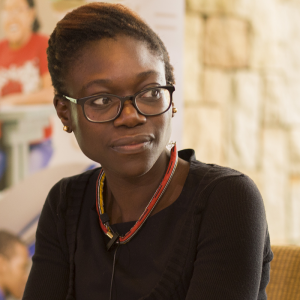 Tolu Oni
Country:
Nigeria
Area of Research:
Public Health Medicine & Policy
Institution:
University of Cape Town
Einstein Challenge:
Tolu is working on establishing the Research Initiative for Cities Health and Equity (RICHE), an interdisciplinary research programme for urban health research in Africa. The RICHE program will be a platform to address urban health inequity and to identify creative strategies to address complex population health and broader societal challenges through a coordinated and intersectoral partnership between academia, civil society and government.
Tolullah (Tolu) Oni was born in Lagos, Nigeria. Her passion for public health is rooted in a long-stranding desire to study medicine from an early age. During her medical studies, Tolu completed her Bachelor's degree in international health at the University College London. This sparked a keen interest in diseases of global importance and the factors that influence health policy and outcomes. The realisation that many health conditions are rooted in social determinants inspired her to switch tracks from a clinical to an academic career in public health and epidemiology.
Tolu completed her medical training at University College London Medical School, UK in 2004; and her Public Health Medical Specialty training (Fellow of the College of Public Health Medicine) in South Africa. She earned her Doctoral research degree in 2012 from the Imperial College London. Her research investigates urbanisation and health and population health transition; and aims to contribute significantly to existing knowledge on the changing patterns of disease and implications for health and wellbeing of the population in the context of urbanization. In particular, her work explores the interaction between chronic infectious and non-infectious diseases, and the impact of the physical and socioeconomic environment on the health profile of populations living in unplanned urban settings.
Tolu has won many awards including election to the South African Young Academy of Science in 2013; she currently serves as the co-chair of the Executive Committee. She was also elected to the 2014 Young Physicians Leadership Programme by the Inter-Academy Medical Panel and the World Academy of Science, is a 2015 World Economic Forum Young Scientist, and was selected as a future global leader to participate in the Future Leaders Program of the Annual Meeting of the Science and Technology in Society Forum, Japan, 2015. She also received the Carnegie "Next Generation of African Academics" and the 2015 Claude Leon Merit research awards.
Currently, she is an Associate Professor at the University of Cape Town.
BACK TO PROFILES