NEF Fellow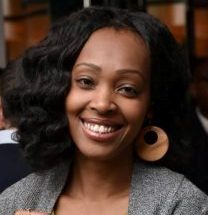 Yvonne Mburu
Country:
Kenya
Area of Research:
Immunology, Oncology, Digital Networks & Big Data
Institution:
Nexakili, Paris, France
Einstein Challenge:
To model, a blueprint of futuristic sustainable health systems in Africa in which the latest technologies are integrated into care and precision medicine is a widespread reality. She wants to visualize a future in which Africa has world-class health care.
Yvonne is a scientist and consultant with more than 15 years of experience in scientific and health research. She is also the Founder and Chief Executive Officer of Nexakili, a professional network that is connecting the global community of African health professionals, scientists and technologists. Nexakili offers a global platform for African professionals to transfer knowledge and collaborate across regions, sectors and disciplines with other professionals all over the world.
A native of Kenya, Yvonne was born and brought up in Nairobi where she attended primary and high school. Upon graduating high school at the top of her class, she moved to Canada on a partial scholarship to pursue her undergraduate studies in Biology and Chemistry at York University, where she eventually graduated with highest honors. Among the awards she received during her time at York was the Carey Risman Memorial Award, an honor bestowed to the best student in the combined degree program. Her early curiosity led her to discover a passion for studying the immunology of cancers. To explore this, she moved to the United States to undertake her doctoral studies in immunology at the University of Pittsburgh, where she studied the mechanisms underlying cancer progression and metastasis in head and neck cancers. Upon completion of her doctorate, she won the inaugural Lloyd J. Old Memorial Award and a CRI-Irvington Fellowship from the Cancer Research Institute to undertake her post-doctoral research at the Curie Institute in Paris on the immunotherapy of cancer.
Over her scientific career, Yvonne has been passionate about the immune system and its dysfunction in diseases such as cancer. Naturally, her dynamic personality and African roots inspired her to seek a deeper engagement with the African continent and find a channel to transfer her skills back to her homeland. This spark fueled the creation of Nexakili – which aims to be the #1 professional platform for health professionals, scientists and technologists both in Africa and in the African-diaspora. Highly optimistic about the digital revolution and the future that it rends possible, Yvonne is particularly interested in how digital technologies can harness the skills of African professionals worldwide and spur interdisciplinary collaborations. She is keen on mobilizing the human and financial capital of the African diaspora to accelerate the availability of innovative research in Africa, contribute more effectively to achieving the health and science objectives of the continent, and assure sustainable outcomes in science and medicine.
Yvonne is a Young Leader of the AfricaFrance Foundation and an UNLEASH Global Talent being among the best talents in the world working on the United Nations Sustainable Development Goals. She is also among the « 100 most influential Africans in 2017 » of the magazine New African, and the United Nations « Global Top 100 under 40 Most Influential People of African Descent ». In August 2017, she was nominated by the French President Emmanuel Macron to join his Presidential Council for Africa, a consultative body that works towards the transformation of the relationship between France and Africa and the strengthening of links between the civil societies of these regions.
Yvonne speaks 5 languages fluently (including English, French and Swahili), is an avid reader and enjoys theatre, hiking and dancing. An afro-optimist by nature, she is passionate about building an Africa that resembles her people and promotes her culture, her values and her hopes.
BACK TO PROFILES