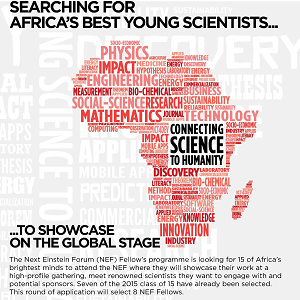 By 2050, the UN projects that 40% of the world's young people will be African. To keep up with this growing youth population and to transition into knowledge based economies, Africa will need to produce a daunting 18 million jobs a year, according to the International Labour Organization (ILO). Yet today, less than 25% of African students go into Science, Technology, Engineering and Mathematics (STEM) at tertiary level. The Next Einstein Forum (NEF), Africa's global forum for science and technology- wants to reverse this trend by bringing together leading thinkers and stakeholders in science, policy, private sector, and civil society in Africa to leverage science education and practice in order to solve the world's challenges.
An initiative of the African Institute for Mathematical Sciences (AIMS) in partnership with the Robert Bosch Stiftung, the NEF will hold its first biennial NEF Global Gathering March 8 – 10, 2016 in Dakar, Senegal. Central to the NEF Global Gathering will be the showcasing of 15 of Africa's top young scientists as NEF Fellows, of which at least 40% will be women. The search for these NEF Fellows is ongoing and young scientists and technologists are encouraged to apply.
The NEF will celebrate African science at the highest international levels, highlight the essential role which science plays in human development, and serve as a platform for contributing to changing perceptions of Africa and its scientific contribution to the world. In line with popularizing science across the continent, the NEF will showcase often underreported scientific progress in Africa, such as the Square Kilometre Array to be hosted in South Africa as well as cutting edge mobile technologies that are transforming the health, agriculture and education sectors. As Africa transforms itself through science and innovation, the NEF will encourage the adoption of science-friendly policies and strategic investments in scientific research and innovation that translate into inclusive growth and transformation.
UNESCO endorses the NEF for its vision to reinforce capacities and policies in the basic and applied sciences, particularly as they pertain to young people. The International Basic sciences Programme (IBSP) of UNESCO ¬– the Organization's main tool for triggering scientific innovation and harnessing international cooperation for capacity building in the basic sciences and science education – is therefore taking an active role in the fulfilment of the objectives of the NEF. Indeed, the platform could serve as a significant building block towards the emergence of Africa as one of the next hubs for global science, technology, innovation and youth entrepreneurship. At the NEF Global Gathering 2016, UNESCO looks to reinforce the need for a holistic and participatory approach that links science to Africa's emerging development trajectory.
Source: www.unesco.org/new/en/media-services/single-view/news/unesco_endorses_africas_global_forum_for_science_and_technology_the_next_einstein_forum/#.VYgKtfntlBd