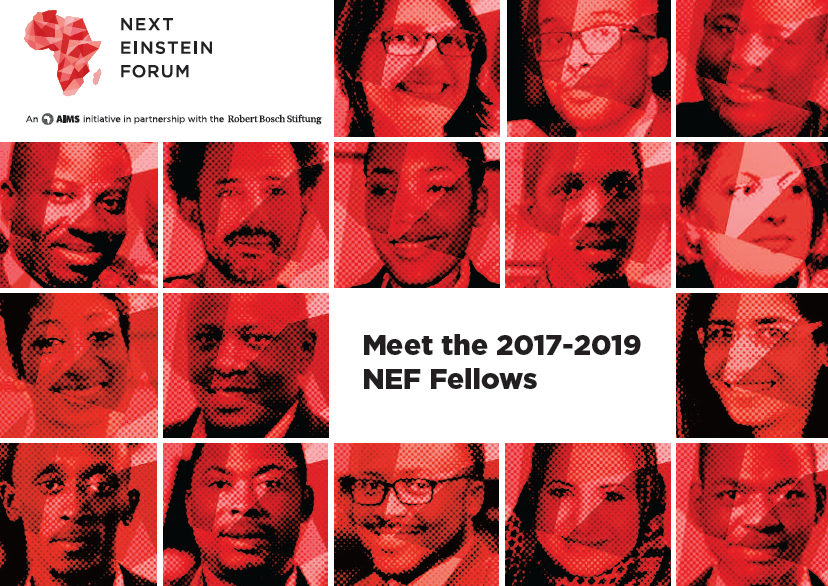 Kigali, 12 September 2017 – The Next Einstein Forum (NEF) today announces its second Fellows Class, 16 scientists, all under 42 years of age, who are solving Africa's and the world's challenges. An initiative of the African Institute for Mathematical Sciences (AIMS) in partnership with the Robert Bosch Stiftung, the NEF will hold its second global forum for science in Kigali, Rwanda, under the patronage of H.E. President Paul Kagame.
Central to the NEF's vision of propelling Africa onto the global scientific stage, the NEF Fellows will present their groundbreaking research at the NEF Global Gathering 2018, to be held on 26-28 March 2018, and help craft an exciting, high impact forum.
"Two years ago it was my great honor to announce the inaugural Fellows Class. Today again, I am excited to announce a brilliant NEF Fellows Class. The selected Fellows, six of whom are women, are doing cutting edge research in renewable energy, nanomaterials and nanotechnology, food security, regenerative medicine, cognitive systems related to fintech, cosmology, seismology etc. Beyond just theoretical research, our Fellows have developed impressive technologies from their research. We strongly believe their discoveries and initiatives, current and future, will solve global challenges in health, energy, climate change, education, agriculture to name a few," said Mr. Thierry Zomahoun, President and CEO of AIMS and Chairman of the NEF.
NEF Fellows are selected by a prestigious Scientific Programme Committee using a rigorous process that looks at academic and scientific qualifications including a strong publication record, patents, awards, and independently raised funds for research. Fellows also have to demonstrate the relevance and impact of their research/innovations to society as well as a passion for raising Africa's scientific profile and inspiring the next generation of scientific leaders.
"I would like to thank the first Fellows Class who have used their tenure to publish high impact research, multiply collaborations among young researchers globally and mentor the next generation. Their active participation in crafting the program has improved the Fellows Programme. Together with this new Fellows' class, they join the newly launched NEF Community of Scientists, an exclusive network that offers members opportunities for consulting, grants, research collaborations, speaking opportunities and career mentorship. In return, members will participate in national and continental policy formulation, cross-cutting research and innovation activities, lead public engagement around science and technology in Africa, and provide mentorship to early-career scientists and students," said Mr. Zomahoun.
Meet the 2017-2019 NEF Fellows: