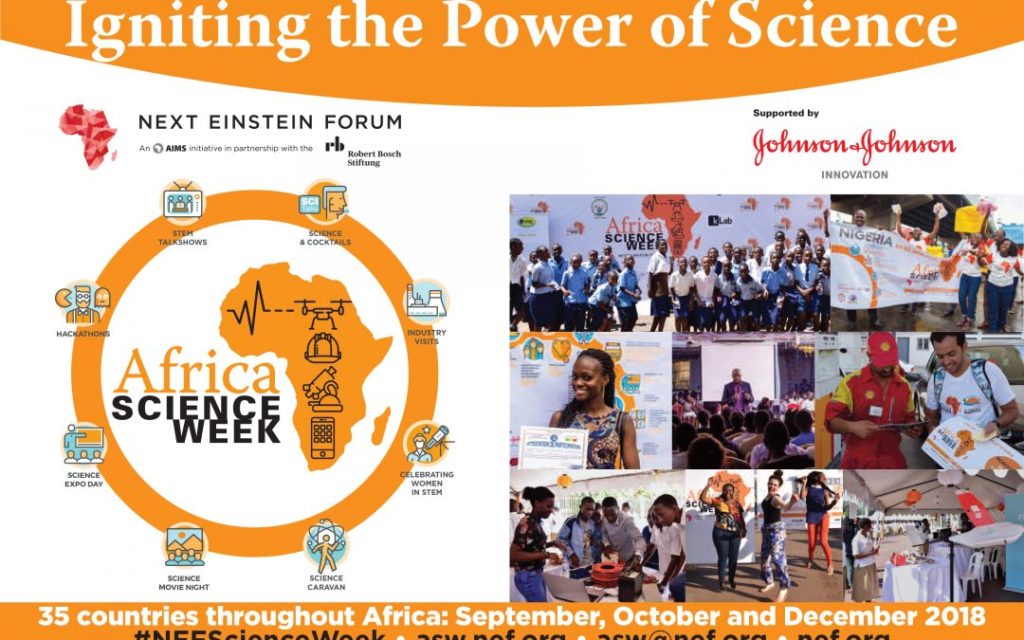 KIGALI, Rwanda, 10 September 2018 – The Next Einstein Forum (NEF), an initiative of the African Institute for Mathematical Sciences (AIMS) in partnership with Robert Bosch Stiftung, today announced the beginning of NEF Africa Science Week in 35 African countries throughout the months of September, October and December 2018. NEF Africa Science Week are led by NEF Ambassadors, local science and technology champions, together with support of local academic, public and private sector stakeholders and sponsors, who organize three to seven days of events in their countries to promote Science, Technology, Engineering and Mathematics (STEM).
"Last year, we had Africa Science Week in 13 countries. We've expanded to 35 countries this year and we are truly excited about how fun and relevant the activities will be for all ages. Activities include science expos and caravans, coding workshops, hackathons, robotics competitions, Science and Cocktails for the business community, innovative academic conferences, celebrating Women in STEM events, movie nights, industry visits etc. We are grateful to Johnson & Johnson Innovation as well as all of our local supporters, for working with us to make STEM education and careers cool and we look forward to seeing the impact of NEF Africa Science Week over the next few years," said Mrs. Nathalie Munyampenda, Managing Director of the Next Einstein Forum.
NEF Africa Science Week will start today in Zambia and then follow in Sudan, Benin, Angola, Uganda, Ghana, Guinea Bissau, Malawi, Swaziland, The Gambia, Zimbabwe, South Africa, Lesotho, Tanzania, Burundi, Sierra Leone, Burkina Faso, Somalia, Rwanda, Ivory Coast, Cape Verde, Republic of CongoMali, Togo, Nigeria, Ethiopia, Morocco, Namibia, Kenya, Guinea, Cameroon, Niger, Tunisia, Senegal and Mauritania. Each country will have specific activities, designed to enable citizens to engage with everyday science and scientists over three to five days.
"At NEF, we believe in science-driven innovation, which also makes room for social innovation and indigenous innovation. We have to do better to connect science driven research to the innovation we see every day and that improves our well-being. We have to start young. That's what we are doing with NEF Africa Science Week and other public engagement activities and we invite everyone to join forces with us in this endeavor," said Mrs. Munyampenda.
Looking to the future, the NEF will expand the reach of its Africa Science Week to 54 countries by 2020. Beyond numbers, the NEF hopes that Africa Science Week will grow to include major activities in schools and universities, and result in concrete collaboration between the research community and private sector.
In line with the NEF's Kigali Declaration, issued at the second biennial NEF Global Gathering 2018, held in Kigali, Rwanda, Africa Science Week will place public engagement at the heart of advancing Africa's scientific agenda. The next edition of the NEF Global Gathering will be held in Nairobi in March 2020 under the patronage of H.E. Uhuru Kenyatta, President of Kenya.
Find out how to participate and support Africa Science Week at www.asw.nef.org.
About the Next Einstein Forum
Launched in 2013, the Next Einstein Forum (NEF) is an initiative of the African Institute for Mathematical Sciences (AIMS) in partnership with Robert Bosch Stiftung. The NEF is a platform that connects science, society and policy in Africa and the rest of the world – with the goal to leverage science for human development globally. The NEF believes that Africa's contributions to the global scientific community are critical for global progress. At the centre of NEF efforts are Africa's young people, the driving force for Africa's scientific renaissance. The NEF is a unique youth-driven forum. Our headline biennial scientific events, NEF Global Gatherings' participants are 42 or younger. Far from an ordinary science forum, the NEF Global Gatherings position science at the centre of global development efforts. The next NEF Global Gathering will be held in March 2020 in Nairobi, Kenya. In addition, through the NEF Community of Scientists, we showcase the contributions of Africa's brilliant youth to Africa's scientific emergence through its class of NEF Fellows who are Africa's top scientists and technologists, all under the age of 42 and NEF Ambassadors who are the NEF's 54 science and technology Ambassadors on the ground.
Finally, the NEF is telling untold stories of scientific research and innovation across the continent through our various platforms. We want to recalibrate what 'innovation' means in Africa. We want to make the link between science and technology, even basic sciences, to everyday life. We believe the next Einstein will be African.
More at nef.org Twitter: @NextEinsteinFor Facebook: NextEinsteinForum
Media contacts
Pearl Karungi
Online Community Manager, Next Einstein Forum
You can download the Next Einstein Forum Africa Science Week Press Release below.
Press Release Launch of ASW2018 – ENG